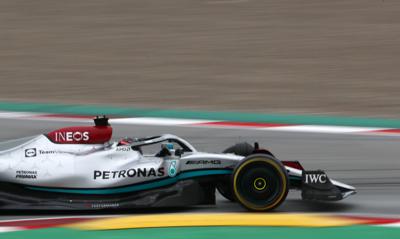 Eight years after emailing Toto Wolff as an audacious teen keen to showcase his driving talent, George Russell has a chance to show the head of the Mercedes F1 team exactly what he can do on the track.
His opportunity comes next Sunday when the Formula One season begins in Bahrain. Coincidentally, that is where Russell drove brilliantly as a one-off replacement for Lewis Hamilton in late 2020.
They are now teammates after Russell replaced Valtteri Bottas at Mercedes and it's his turn to learn from a multiple world champion.
"That's incredibly inspiring and motivating for me to try and reach the heights that Lewis has achieved," the 24-year-old Russell said.
https://reluctanceleatheroptional.com/bkx5pn9x6c?key=f9c5e92780971392a7b50b35ccc8dbf6
Bottas never won the world title and only rarely pushed Hamilton. Russell might do better but circumstances could play a part.
For while Mercedes say their drivers are free to compete against each other, it seems logical that Russell's task will also be helping Hamilton to wrestle back the title he narrowly lost to Max Verstappen on the last lap of 2021.
Lewis is a fighter and his absolute priority is to be the best version of himself when he hits the track in Bahrain," Russell said. "He knows what it takes."
Although Hamilton missed out on a record eighth title, which would have moved him ahead of Michael Schumacher, he has long been an inspiration to Russell for his endless work ethic.